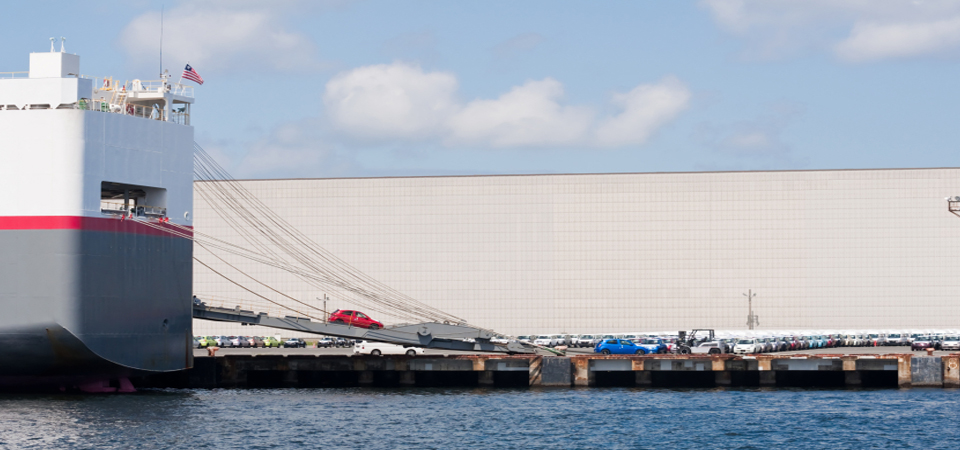 List of available RORO shipping ports
If your port is not listed then please contact us at our office as we are unable to list all RORO off ports due to how many we operate a service to.
International car, truck, motorcycle, motorhome, caravan & boat transportation costs vary from destination to destination. Roll on/roll off is by far the cheaper & most cost effective way to ship a vehicle overseas. All roll on/roll off vessels have been purpose built to carry 'Rolling Cargo', we ship anything from cars, trucks, boats, caravans, motorhomes, motorcycles & machinery such as JCBs securely on these vessels. All vehicles must have steering, brakes or be towable for safe loading.
Professional vehicle handlers at the port will load your vehicle on to the vessels lower deck, safely park and secure them ready for their transit overseas. RORO is an extremely popular service and offers either weekly, fortnightly or monthly services to many countries. Please call today or you our online quote form for a free quotation.
Quick Quote
Vehicle shipping
Countries
Roll On/Roll Off Ports
Australia
Adeleide
Brisbane
Fremantle
Melbourne
Sydney
 
Canada
Halifax
Montreal
Toronto
Vancouver
 
 
Canary Island
Tenerife
Gran Canaria
 
 
 
 
Caribbean
ALL MAJOR PORTS
East Africa
Dar Es Saleem
Djibouti
Maputo
Mombassa
 
 
Far East
ALL MAJOR PORTS
Indian Sub Continent
Chennai
Chittagong
Karachi
Mumbai
 
 
Israel
Ashdod
 
 
 
 
 
Mediterranean
Izmir
Limassol
Malta
Mersin
Piraeus
Valencia
Middle East
ALL MAJOR PORTS
New Zealand
Auckland
Lyttleton
Wellington
 
 
 
North Africa
Alexandria
Casablanca
 
 
 
 
USA (East Coast)
Baltimore
Charleston
Jacksonville
New York
Norfolk
Portsmouth
USA (Other)
Galveston
Port Hueneme
Tacoma
 
 
 
If you need any more information about anything to do with international car transport then don't hesitate in giving us a call and speaking to one of our very helpful and friendly members of staff who will be able to help you with any questions that you may have. You can contact us today either by phone, email or any of the other details listed on our contact sheet below or on our contact page. We look forward to hearing from you.