Professional International Car Shipping
For reliable and professional international car shipping services only the best will do when looking to ship a vehicle abroad safely. First Base Freight still remain one of the most tried and tested market leaders for the safe transportation of vehicles either from or to the UK by sea, road or air.  We can ship your vehicle, large or small to any destination overseas by roll on/roll off or by container services with ease.  Our experienced team specialises in the safe shipment of saloon cars, 4 x 4's, Vans, trucks, caravans and motorhomes to any port across the world.  Our regular vehicle shipping services sail from many UK ports including Southampton, Tilbury, London Gateway, Felixstowe, Immingham and Bristol to many overseas destinations every week.  
Our professional services and great prices makes us the more affordable choice to ship any type of vehicle on budget. Our dedication and commitment ensures that your vehicle is shipped on board only the best vessels using the most professional companies around.  All vehicles being shipped by roll on/roll off are treated with the utmost care and attention and are loaded, secured and shipped only below deck.  We take pride in our services and are committed to getting the job done in a timely, efficient manner at a cost that is affordable.
As a fully licensed and insured international car shipping company, we are able to offer the safe shipment of any vehicle overseas confidently. We engage the services of the most experienced, well-known shipping lines across the industry that instinctively know how to take care of any vehicle, that can secure it either on to the ship itself below deck or directly in to a container every time.  This professional approach allows us to be confident in knowing that your vehicle is in the best hands at all times.  Safety on board these vessels is taken very seriously so every vehicle is secured using ratchet straps and wheel blocks to stop any vehicle moving whilst in transit.  All vehicles are continually checked throughout its voyage to guarantee optimum safety on board the vessel.
Roll on/roll off shipping is still one of the more affordable ways to ship a vehicle overseas safely. These purpose built vessels carry thousands of vehicles at any one time for both new and used cars, trucks, caravans and motorhomes easily.  With vehicles being able to be driven on and off the ship, the costs for vehicle handling is so much cheaper than shipping it in a container for example.  All vehicles being shipped by Roll on/Roll off (also known as Ro Ro) are parked below deck and are secured using straps to the front and to the rear of the vehicle.  Straps are continually monitored for movement and are adjusted throughout the voyage to keep vehicles safe and secure whilst on board.
Our containers come in 3 different sizes, 20ft, 40ft and 40ft HC and can offer a more secure way of shipping a vehicle overseas. Depending on the size of vehicle to be shipped will depend on which size of container is used to secure the vehicle in to.  We work closely with many of our partners warehouses situated across the UK, this affords us a more convenient way to get the job done securely at a fraction of the price.  Vehicles are loaded and strapped inside the container by fully trained staff, the wheels are secured using ratchet straps and wooden blocks to ensure that the vehicle remains stationary once the container doors are locked and sealed.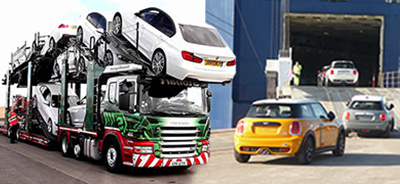 Quick Quote
Vehicle shipping